Cransten's Best Practices for Maintaining Your Home
Maintaining your home is critical because not only does it feel great to have a clean, well-functioning home, it can save you thousands of dollars in bills in the long run. Because, as we all know, little problems become big problems if they're not dealt with.
Additionally, should you decide to sell your home in the future, it will be well worth the effort of maintaining your home when you rack in those checks!
Besides, it's fun to get the whole family to chip in, especially during these times. It's a rewarding and bonding experience for the whole family.
An experience which is made easier (& better) if you know exactly what to do, and how to do it.
Our goal within this article, to make everything clear on how to keep your home at its pristine standard throughout the year.
So, get your pens at the ready, this is going to be comprehensive.
There is a lot of confusion on how much we ought to spend on our homes to make sure it's always looking pristine clean.
A useful formula we've found is to simply put aside 2-4% of your home value each year. Then spend that on your most pressing projects as they arise.
That means if your home is valued at $300K, 2-4% of 300K is $6,000 to $12,000 – this is how much you should put aside each year. This works out to $500 – $1000 each month.
On the upside, it unlikely you'll spend all of this each month, so, at the end of the year, you can use it to upgrade your home or just use it as an excellent saving tool!
Monthly Items:
Inspect your fire extinguisher(s).
We'll assume at this point that you have one (many don't!) This inspection is super easy, simply make sure access to it is easy & follow the extinguisher instructions for regular maintenance, which usually simply means checking the pressure gauge.
Clean range-hood filters.
Your range-hood has an important job within your kitchen as it's designed to remove odours, gas and excess steam that come with preparing a meal. Regular cleaning will ensure it continues doing this job at a high standard throughout the years.
Unclog all your pipes
Do this every month or so. Grab yourself some sink & drain gel and pour it in all of your drainage pipes – bath tubs, sinks etc. They are all connected so one blockage can cause all the others to slow down.
Inspect smoke and carbon monoxide alarms
This takes less than two minutes and it can save your life! For most smoke detectors, you want to press and hold on the test button. You should hear a piercing sound. Hear a soft or faint sound, this means it is time to replace the batteries.
Seasonal Repairs:
Each season brings with it a whole new set of opportunities and challenges, understanding how these affect your home allows you to plan accordingly and take full advantage. Luckily, we've done this for you!
Spring:
Check the exterior drainage.
Does rain water flow away from your house? If puddles stay around you home for more than 24 hours you have a problem. Don't fret though, if water stays, or moves toward your foundation, there's a few things you can do.
First, check your gutters. It could be a loose connection or a bad spout; or they may just be dirty and needing cleaning.
Second, you can create a gradient using some dirt; this has works very well and you can do it yourself.
Third, for pavement, you can have professionals come out and raise it, so it drains away from your home.
Clean out your gutters.
They will have accumulated leaves from the fall and grime/sediment from the winter snows and a lot of rain too. They will be desperate for a cleaning. These can be done quite easily, you can even get an automatic gutter cleaner.
Inspect the exterior of your home.
Make sure there isn't any paint chipping, any siding damaged from winter or any holes in your bricks. Take a look all around your house and make repairs as necessary. Many forget this one but be sure to check your foundation for any cracks. A good silicone or caulk can fix a lot of these problems.
Repair/replace damaged window screens.
The last thing you want is bugs making their way in because you missed a hole in a window screen. And yes, while duct tape is a great fix, don't leave it for long. It just looks bad. The jury has decided on this one.
Air conditioning preparation for summer.
Consider having it serviced. This one really depends on your individual home, and even which part of the country you live in. Some simply use window air units, others a big rooftop swamp cooler. Great thing about these is that they're fairly easy to maintain if you know what you're doing. This is also one of the services we provide should you ever prefer to have one of our professionals do it.
Central air is however more complicated, and we highly recommend you hire a professional for this. This will actually save you money and headaches down the road.
Clear dead plants/shrubs from the house.
I bet you weren't expecting a gardening tip too!
Here it is anyway! If you didn't trim trees or shrubs in the fall, do so now. Plants can weasel their way into cracks and holes on the exterior of your home, causing damage and shortened longevity. Nip that in the bud (pun intended) before it's an issue. If you have decorative vines on the exterior, pay close attention.
Check trees for interference with electric lines. Have them professionally trimmed if necessary.
Inspect roofing
This is critical to notice the early signs for damage, leaks, etc. So they can get repaired as needed before it's too late and you have to fork out 5 figures to get it fixed! We can help you deal with these issues, sooner or later, that one is up to you.
Summer
The sun is out to be enjoyed; this makes it a great time to take care of the exterior of your home.
Check grout
Mainly in bathrooms, kitchen, etc and repair as needed. This will prolong the life of your tiled surfaces and just looks better. Again, the jury has decided.
Clean and repair deck/patio as needed.
Generally, all that is needed is a good washing. A deck may also need re-staining. Be sure to check for any loose boards or posts and any of our professionals will be more than happy to repair as needed.
Inspect plumbing for leaks
Clean out the aerators on faucets. Check for any small leaks around your faucets and toilets. If your water pressure out of your faucet is poor, the aerator is the likely culprit and it's a quick fix for any of our professionals.
Get rid of the insect problem
Summer is when they come out, your home is their playground. You probably won't have to look too hard to find this problem. Ants, spiders, moths, etc. are all common, and are fairly easy to take care of. Keep cobwebs clear, make sure all doors are tightly closed, etc.
Clean out your window wells of debris.
Having a basement is synonymous with having window wells. All kinds of things can get down in there from leaves, to trash, to animals. Clean them out!
Clean dryer vent, and other exhaust vents to exterior of home.
Check that the exhaust is coming out while the dryer is running. It should smell of fresh laundry. If there isn't much exhaust, there are likely to be blockages, check for these as well as you can. You may need the help of a professional with this one.
Clean the garage.
Make this your summer ritual. Keeping it clean and tidy will extend its life.
Fall
Fall is the in-between season. You're finishing up your summer home maintenance tasks as well as getting your home ready for winter. I don't need to tell you what cold, snow, and rain can do a home, so you don't want to your winter preparation lightly.
Flush hot water heater and remove sediment
This prolongs both the life of your heater and helps with efficiency as well, thus saving you some money.
Winterize air conditioning systems.
Remove and store your window units. If you have central air, cover the outside unit with a tarp or plastic sheeting and secure with some cords.
Prepare heating system for winter.
Check for any leaks in windows or doors; these can cost an arm and a leg. Not sure about you, but I'd like to keep mine! Make sure the heating vents are open and unblocked from furniture. Get your furnaces serviced/inspected at least every other year, preferably annually. Don't forget about fireplaces if you have them.
Turn off and flush outdoor water faucets.
Also, flush hoses and store them. Be sure to winterize your sprinkler systems as well.
Get chimney cleaned.
The jury is still out on whether this should be done in the spring or fall. Either way, just make sure it's done once per year.
Test sump pump.
The last thing you want is to need your sump pump and only to find out it's not working.
Check driveway/pavement for cracks.
Make sure to have re-sealed all of these before winter. Why? When water freezes, it expands in the cracks, causing more damage and costing you more money.
Purchase winter gear.
It's always good to have your sidewalk salt, good shovels, etc. ready for winter.
Winter
At last, it's here! Winter is the time to go around the interior of your home and check for any little things you may have overlooked, or perhaps noticed and said, "I'll get to that later." Winter is that later.
If you have any interior honey-do projects, whether it be painting, building shelves, etc., now is a great time to tackle those as well. After all, who wants to be outside during this time?
Check and clear ice dams and icicles
De-icing cables that sit at the front of the roof is a great idea. Don't let those icicles grow, ignore what the kids may want you to. They're not only a danger to people standing beneath them, but they're surprisingly heavy and can cause damage to your home. They also can cause water damage to your foundation when they melt!
Test your electricity to the extent that you can.
Always, always be extra careful when working with electricity. You can do a couple of things on your own, though. Check that all outlets work; if they don't, you can get the help of any of our professionals.
Tighten everything
Make sure handles, knobs, racks, etc. are as tight as necessary to keep all that lovely warmth inside! Go through the house and inspect anything that could have a loose screw. If anything doesn't work, replace!
Check for caulking
Mainly around showers and bathtubs; and repair as needed. Also be sure to remove showerheads and clean the sediment. This prolongs its life and helps with water pressure as well.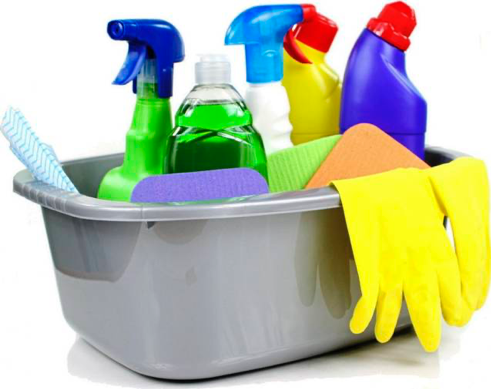 Deep clean and inspect the basement.
Basements are notoriously overlooked, especially if they're primarily just storage areas. Give them some much needed love. Make sure all the mould is cleared and ideally, it should be to a standard that you'd be happy to have your very special guest sleep there for the night.
Every 6 months
Or each time there is a time change, be sure to swap out smoke detector batteries as well as any carbon monoxide alarms. Also check your water heater's pressure relief valve and make sure its functioning as it should. This will prevent mineral and corrosion build-up, improve heater efficiency and will safeguards against leaks. All making sure you get to keep your arm and leg!
We hope you enjoyed this one, if you need any help implementing any of these strategies, don't hesitate to contact us! We will be more than happy to help!